Julie Hinds
Soft Tissue Therapy
Testimonials
Julie has developed a huge wealth of experience and has been a member of the International Sports Massage Team, working in conjunction with physiotherapists at prestigious events such as the Olympics, Paralympics and World Athletics Championships.

"I really benefit from a pre race sports massage a few days before a big event. It also helps my recovery from hard training sessions."
Keith Edwards
Qualifier, Ironman 70.3 World Championships, Florida 2006/7; GB representative World Championships, Hamburg 2007.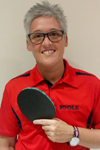 "In 2016, I took up playing competitive table tennis having not played sport for over 25 years. Sessions with Julie have been invaluable in allowing me to play 6 days per week.  The treatment from Julie prevents minor niggles becoming injury issues and my movement around the table has improved as a consequence."
Sarah James

"When firm touch presses on soft tissue and knowingly finds the spot, just the very spot where pain is greatest, and presses deeper and deeper again; and then along the pathways, extending with continuous rhythm, upwards, downwards, extending, extending, easing, easing away all gathered tension, easing away with such knowing touch, again, again, easing, easing, again, again ... with such an understanding skill ... the resulting feeling is of wonderful relief, such grateful relief... Thank you, Julie!"
Kharis Dekker


"After a recurrent hamstring injury, Julie's individual method of treatment assisted me to a speedy recovery and quickly got me back on track to competitive fitness."
Steve Phillips
Top 10 all time UK Long Jumper; British and European gold medallist; Commonwealth Games and World Cup finalist.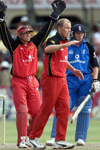 "I have been to see Julie Hinds and she has really helped me with my injuries. I thoroughly recommend Sports Massage, it really works!!"
Gary Brent
Zimbabwe Cricketer (pictured alongside Andy Flower and Paul Collingwood)